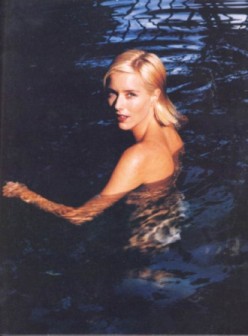 French Premiere Magazine June 1998
TEA LEONI HAS A QUITE EASY LIFE,PASSING RELATIVELY ANONYMOUS. SHE IS HOLDING HER HUSBANDS ARM AND THAT HOLD IS GET TIGHTER. "MOST OF THE TIME, NOBOBY RECOGNIZES ME ON THE STREET, EVEN THOSE WHO SEE ME EACH WEEK ON T.V.UNLESS I BEGIN TO TALK,THEN,THEY RECOGNIZE MY MONSTER VOICE. BUT THEY RECOGNIZE DAVID. HE PUT ON A FALSE MUSTACHE WHEN WE WENT TO GET OUR MARRIAGE CERTIFICATE. WHAT A DESASTER! WHILE WE WERE WAITING,HIS MUSTACHE WAS LOOSENIING,AND MYSELF, I WAS TRYING ,CLUMSILY,TO PUT IT BACK IN PLACE. PEOPLE BEGAN TO SAY "HEY,MULDER,COOL MUSTACHE!"


...HOW SWEET THIS IS: IT IS BECAUSE OF HER GRANDMOTHER THAT HAS THIS VOCATION. "MY GRANDMOTHER WAS A COMEDIAN ON BROADWAY IN THE 20'S AND DID A
COUPLE OF SILENT MOVIES. SHE WAS COMPARING ME TO SARAH BERNHART,BECAUSE OF
MY INCLINATION FOR MELO-DRAMA WHEN I WAS YOUNG. SHE QUIT THE PROFESSION
WHEN SHE WAS 28 BECAUSE SHE FOUND IT TOO SUPERFICAL. I MYSELF,AT 20, WAS
READY TO TRY EVERYTHING,JUST FOR THE FUN OF IT. I WOKRED ON SHIPS IN THE
VIRGIN ISLANDS,I DID ASLL KIND OF BIZAAR JOBS LIKE TRYING TO TEACH
BUSINESS MEN HOW TO BEHAVE WITH AMERICAN WOMEN.IT WAS LAUGHABLE.THE ONLY
THING THAT I COULD NOT HAVE DONE WAS TO BE A WAITRESS. IT MAKES ME SICK JUST
JUST TO SEE HOW PEOPLE BEHAVE IN RESTAURANTS. I HAVE READ SOMEONWHERE THAT
I HAVE BEEN ONE; WITHOUT ANY DOUBT BECAUSE CERTAIN PEOPLE IMAGINE ALL ACTORS HAVE
ALL BEEN WAITRESSES BEFORE. THAT SAID,I NEVER STOP READING INCREDIBLE THINGS
ABOUT MYSELF. IF WE BELIEVE THE PRESS,I EVEN HAVE BEEN IMPREGNATED BY AN ALIEN.HARD TO
FIGHT THOSE KIND OF THINGS...."